Cleanroom Certification and Testing
Cleanrooms are designed to use HEPA filtered air and specific airflow design parameters to reduce contamination and control airborne particulate concentrations and environmental conditions in critical areas. Cleanrooms can be under positive or negative pressure. A cleanroom certification must be routinely performed to ensure accordance with client, INDUSTRY, and regulatory specifications to verify the facility is performing within operational limits.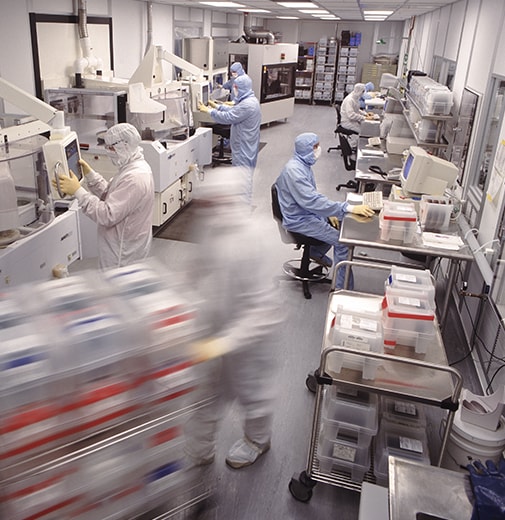 Our cleanroom certification services include documentation created with eData, TSS' proprietary, 21 CFR Part 11 compliant data collection software. Cleanroom testing documentation is delivered at the time of service. An optional formal summary report detailing all test procedures, associated diagrams, results, and comprehensive conclusions of the testing performed may be included and customized to suit your quality documentation needs.
All cleanroom testing is performed by highly qualified technicians in accordance with current good manufacturing practices [cGMP], Institute of Environmental Sciences Technologies [IEST], International Organization for Standardization [ISO], and any applicable customer design specifications.
Our primary cleanroom testing and cleanroom certification services include:
Airflow volume/velocity readings – ensures both unidirectional and non-unidirectional flow areas are properly balanced and unidirectional zones are maintaining proper air patterns
Room air exchange rate [RAER] – confirms a proper ventilation rate is being achieved
Room differential pressure testing – verifies room differential pressures meet requirements
HEPA filter testing – documents leakage or defects and ensures HEPA filters for clean rooms provide required filtration
Non-viable particle counting – conducted per ISO 14644 or EU Annex 1, reports the amount of airborne particulate of a specified size in the clean zone
Temperature/relative humidity measurement – confirms whether HVAC controls are functioning properly and uniformly
Optional tests include:
Air balancing – adjusts airflow in the air handling systems to achieve design airflow, room air exchange rates, and pressure cascade
Airflow visualization studies – qualitatively verifies airflow direction using a source of visible fog (TSS has several fog options including carbon dioxide, glycol, and liquid nitrogen)
Viable environmental monitoring [EM] – performed on both air and surfaces to determine if any bacterial and fungal contamination is present
Compressed air and gas testing – ensures compressed air and gas systems meet the requirements of the controlled environment, testing includes: non-viable and viable particulate, total hydrocarbon (oil), and dew point determination
Lighting, vibration, and sound tests – performed to design specifications to ensure worker comfort
Room recovery testing – performed to determine whether an area is capable of returning to a specified cleanliness level after non-routine exposure events
TSS can perform additional testing as specified by client and/or ISO/IEST guidelines
Make TSS your first call for all your cleanroom testing, cleanroom certification, and controlled environment needs. CONTACT US ONLINE or call 800-877-7742 to discuss your specific needs and to schedule service.
With every service call, TSS offers you
Responsive service to minimize downtime
Customized documentation and technical writing services
Online access to your equipment inventory and certification
The assurance of an ISO 9001-certified quality