Decontamination Services
When your research or production calls for an aseptic environment, TSS' lab decontamination services will deliver the cleanliness you require. Our decontamination processes effectively neutralize a wide range of viral, bacterial and fungal contaminants. Whether you require small or large room decontamination services, you can rely on TSS' expertise to ensure the safe, effective and timely neutralization of contaminants in your facility.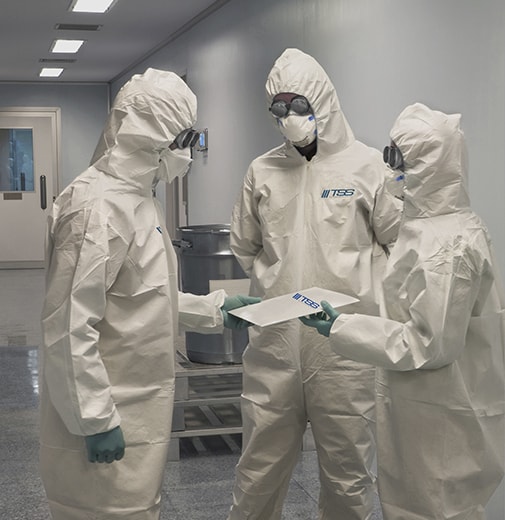 Providing a variety of decontamination cleaning services, including gas/vapor methods such as hydrogen peroxide vapor, chlorine dioxide gas and formaldehyde vapor, Technical Safety Services is your best source for all decontamination applications. From chlorine dioxide decontamination to formaldehyde, all of TSS' decontamination methods have been validated and verified to consistently deliver a six-log reduction in bioburden. Biological indicator verification may be included for all decontaminations to provide confirmation of bioburden reduction. CONTACT TSS today and we'll help you determine which decontamination method is best suited to your specific needs.
Large scale decontaminations (rooms & facilities)
Turn to TSS when your needs call for the full scale decontamination of large cleanrooms, cold rooms, high containment labs, animal research facilities or other potentially contaminated areas. Technical Safety Services can generate a facility and project specific decontamination protocol to outline all decontamination procedures, health and safety requirements, and project closure expectations. contact TSS today to discuss your specific needs and schedule large facility decontamination services.
Small scale decontaminations (equipment)
When it comes to the decontamination of biological safety cabinets, incubators and other laboratory equipment, our experienced technicians deliver consistent decontamination results through the execution of TSS SOPs, procedures that are carefully designed to comply with state and federal safety expectations. Technical Safety Services is capable of tackling a wide array of contamination challenges. From hazardous biological residue on laboratory equipment and devices to mold in an incubator, TSS is your solution for small scale decontamination services. Call 800-877-7742 to put that solution to work for you today.
Facility decommissioning
TSS offers turn-key solutions for laboratory relocation and complete site closures. Local, State, and Federal environmental regulations, complicated equipment de-installation, moving, and chemical inventory transfers & disposal can overwhelm your research staff. We can clean, pack, & move laboratory facilities across the country, handle hazardous materials permit closures, provide a detailed closure plan, and final formal closure report, to ensure a smooth process. Read more about our professional DECOMMISSIONING SERVICES or CONTACT TSS to discuss your specific needs.
With every service call, TSS offers you
responsive service to minimize downtime
customized documentation and technical writing services
online access to your equipment inventory and certification
the assurance of an ISO 9001 certified quality system