Fume Hood/ASHRAE-110 Testing
TSS offers comprehensive chemical fume hood testing and certification. All testing is performed in accord with our established SOPs, which are updated to remain compliant with state, federal and international safety guidelines. Chemical fume hood testing is performed to comply with regulations and standards set forth by OSHA, AIHA/ANSI, SEFA, NEBB and ASHRAE.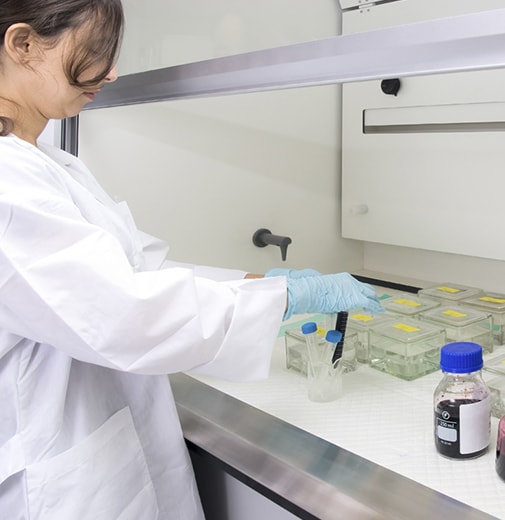 How Often Should a Fume Hood Be Tested?
According to the standards set forward by OSHA, chemical fume hood testing should be conducted on an annual basis at a minimum. Additionally, new fume hoods should be tested upon installation prior to utilization. It also is recommended that a reevaluation should be performed any time changes are made to the equipment. Given how crucial chemical fume hoods are to a safe working environment, operators also are encouraged to do a quick visual inspection at least once a day. This includes looking for any blockages that might restrict air flow and ensuring that the inside of the hood is clean. TSS recommends installing an audible and visual airflow alarm to indicate whether the fume hood is safe to operate if one is not already present. This should be calibrated on an annual basis at a minimum.
What Does Testing Entail?
Primary tests include inflow face velocity profiling and airflow smoke pattern testing. These provide a qualitative analysis of air capture at the face of the unit, thus demonstrating the unit's exposure prevention effectiveness and ensuring operator safety. Tracer gas tests to comply with ASHRAE Standard 110 provide quantitative data evaluating the containment performance of fume hoods.
Additional ASHRAE 110 fume hood testing options include:
Local and large volume smoke visualization testing
Cross-draft testing
VAV (variable air volume) response testing
Tracer gas containment testing
Sash motion effects tracer gas containment testing
Nitrous Oxide as a Tracer Gas
ASHRAE Standard 110, Section 4.1, outlines the use of sulfur hexafluoride, a potent greenhouse gas, for tracer gas testing. Alternatives to sulfur hexafluoride have long been sought due to its contribution to climate change. We have pioneered the search for alternative tracer gasses. We have conducted extensive research into the use of nitrous oxide as an alternative tracer gas, resulting in a ~99% reduction in our carbon footprint when performing such tests. Our studies have convinced the University of California system, the United States Department of Energy and several other clients to adopt nitrous oxide as a valid alternative tracer gas. Further, our work provides a roadmap for the qualification of other gasses.
The following linked article is an author's original manuscript whose final and definitive form, the version of record, has been published in the Journal of Occupational and Environmental Hygiene, [12 SEP 2013] [copyright Taylor & Francis], available at the TAYLOR & FRANCIS WEBSITE.
Fume Hood Airflow Alarms
In accord with regulatory bodies and in keeping with fundamental laboratory safety, TSS encourages the use of calibrated quantitative airflow monitors in conjunction with any operational fume hood. These are the best way to ensure your chemical fume hood is operating safely and in compliance with OSHA and other regulatory parameters.
Contact us for more information regarding the benefits of a quantitative airflow monitor over other airflow indication devices.
To better suit your specific needs, TSS offers you a choice in airflow monitors:
If you'd like to learn more about the wide range of other testing and certification services we can provide in your facility, get in touch with us today. Our comprehensive expertise can serve an extensive array of applications for your operations.