Compressed Gas/Air System Testing
Compressed gas/air systems are critical process systems which require routine maintenance and testing for confirmation of control to established cleanliness parameters. From the biopharma, medical device and healthcare industries to food and beverage production, TSS provides complete compressed gas testing and compressed air system testing to ensure compliance with ISO, FDA and USP requirements. TSS can also provide consultation services to determine the level and types of compressed air system maintenance and testing required specific to your facility and your processes.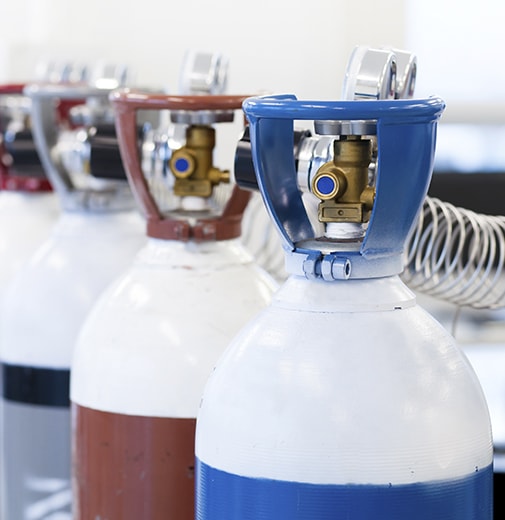 Mitigating contamination
| | |
| --- | --- |
| Test Parameter | In Accordance With |
| Nonviable Particulate | ISO 8573, ISO 14644, Custom |
| Dew point (Moisture) | ISO 8573, Custom |
| Total Oil (Hydrocarbon) | ISO 8573, Custom |
| Viable Bioburden | ISO 8573, ISO 14698, Custom |
| Purity | ISO 8573, Medical Grade, CGA, Military, USP, NFPA, Custom |
High levels of particulate may impact the operation of compressed gas/air systems as well as the processes served by them. ISO 8573 establishes purity classes for solid particulate. TSS measures and reports the total concentration for the appropriate particulate sizes to ensure your system is in compliance and functioning properly.
Excessive water may also lead to system or process failures. ISO 8573 defines several classes of pressure dew point criteria. TSS utilizes NIST-traceable, digital dewpointers to directly measure the pressure dew point of each system for real-time comparison to ISO or facility specific criteria.
Oil is introduced into lines from the compressor. TSS collects total oil vapor and/or mist samples to provide laboratory analysis of detected hydrocarbons.
TSS is also capable of providing gas purity and viable (aerobic and/or anaerobic) bioburden analysis.
Not all testing is considered equal
ISO 8573 provides descriptions of testing methodologies and considerations for compressed gas/air system testing. TSS offers testing and certification for all defined purity classes in accordance with industry expectations and requirements.
All testing includes documentation created with eData, TSS' proprietary, 21 CFR Part 11 compliant data collection software. Test documentation is delivered at the time of service. An optional formal summary report detailing all test procedures, associated diagrams, results, and comprehensive conclusions of the testing performed can be included and customized to suit your needs.
Technical Safety Services offers a full suite of additional compressed gas/dry air system maintenance services to support your facility's needs. Please contact your regional TSS office for additional information or call 800-877-7742 to schedule a free consultation.
With every service call, TSS offers you
Responsive service to minimize downtime
Customized documentation and technical writing services
Online access to your equipment inventory and certification
The assurance of an ISO 9001-certified quality system