BSC Certification and Testing
Understanding biosafety cabinet certification requirements is of utmost importance, which is why TSS offers comprehensive biological safety cabinet testing, certification and maintenance. Our skilled technicians are authorized to perform warranty repairs for all major equipment manufacturers. All biosafety cabinet certification is performed in accordance with established TSS SOPs, which are updated to remain compliant with federal and international safety guidelines.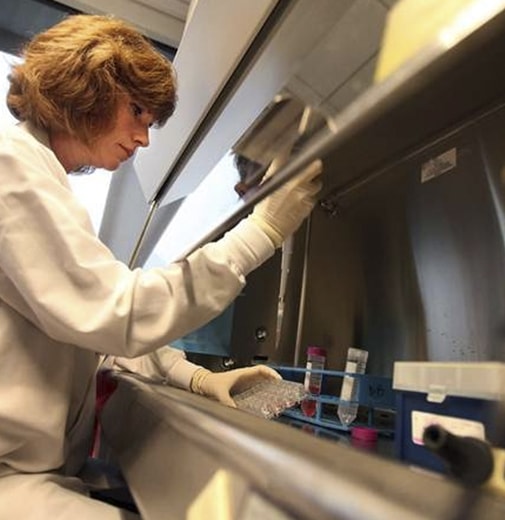 Biological safety cabinets (BSCs) are field tested in accordance with NSF/ANSI 49, OSHA, NIH/CDC, and the manufacturer's specifications. Generally speaking, these tests should be conducted whenever the units are installed or relocated. Additionally, this type of testing should be done following any significant maintenance, including the replacement of HEPA filters. NSF 49 also recommends that certifications should take place at least every 12 months, although many applications require BSC certifications to be performed more frequently such as a BSC used in a cGMP environment which would require a semiannual certification cycle.
Because preventing contamination and inaccurate experiment results is paramount to protecting patients, biosafety cabinet testing and certification should be a regular element of the precautions taken by a laboratory. Our services can ensure that such testing is successfully completed in accordance with all appropriate standards.
Primary tests performed include:
Inflow velocity measurements – ensures proper inflow is maintained for operator protection and environmental protection.
Downflow velocity measurements – documents the air in the work area is unidirectional and functioning as designed, preventing cross contamination, and providing product protection from the environment
HEPA filter integrity testing – documents leakage or defects and ensures HEPA filters provide required filtration to prevent both product and environmental contamination
Smoke pattern testing – qualitatively verifies airflow directions using a small source of visible fog
Site installation testing and alarm calibration – confirms alarm performance and assesses installation of units for NSF and OSHA compliance
Optional tests include:
Non-viable particle counting – performed in accordance with ISO 14644-1 or EC Annex 1, and provides a quantitative evaluation of air quality in terms of particulate in the work area
Electrical safety testing – ensures the unit is electrically grounded, limiting the shock risk to end users
Fluorescent light testing – ensures fluorescent lighting levels are sufficient to prevent operator fatigue
UV light testing – ensures the UV light operates adequately and provides UVC output for proper exposure calculation
Pressure decay and cabinet integrity testing – establishes structural integrity and confirms contamination cannot escape through welds, joints or panels
Vibration testing – ensures product is not subject to damage due to vibration and may be performed in association with troubleshooting
Sound testing - verifies hood operation/usage will not contribute to worker fatigue/stress and may be performed in association with troubleshooting
Airflow visualization studies – provides a qualitative identification of appropriate work zones and identifies techniques that could lead to contamination risk
Routine biosafety cabinet certification is vital to the safety of your laboratory technicians as well as the validity of your research. We maintain the largest and most experienced staff of NSF Accredited service technicians in the United States.
When it comes to choosing a biosafety cabinet testing company, we are the clear choice. Just one call puts you in touch with the regional office nearest you.
Call 800-877-7742 to schedule services or contact us online for more information.
With every service call, TSS offers you
responsive service to minimize downtime
customized documentation and technical writing services
online access to your equipment inventory and certification
the assurance of an ISO 9001 certified quality system