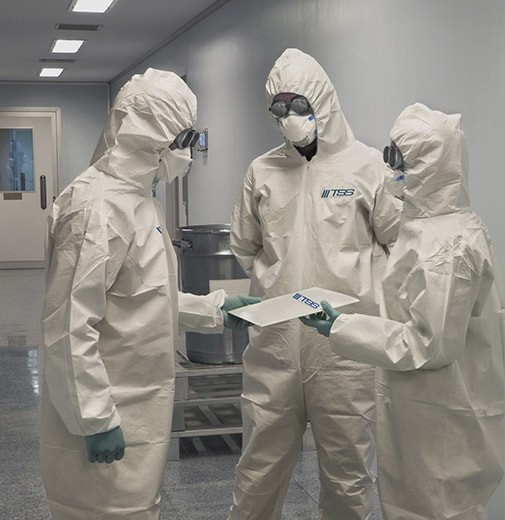 Large scale decontaminations may be required for many different reasons – for example, a planned lab shutdown may include a space decontamination to facilitate planned maintenance, or an unplanned decontamination may be required following a non-routine exposure event. These decontaminations, which include generation of a vapor/gas decontamination agent in a pre-determined zone to provide a minimum six-log reduction in bioburden, are critical to be managed responsibly and efficiently to ensure a timely turnaround of effective results.
Large scale decontaminations are typically performed with vaporized hydrogen dioxide (H2O2) or gaseous chlorine dioxide (ClO2). The selection of the appropriate agent, and additional decontamination plan details such as the scope of the decon, should be considered as part of plan development taking into consideration the reason for decontamination, expected activities within the space following decontamination (i.e. construction), possible pre-emptive measures that may be taken prior to the vapor/gaseous decontamination, and other factors as appropriate.
There are key steps that may be taken in support of an efficacious decontamination. Prior to the decontamination, surfaces should be cleaned to remove as much of the contaminant as possible; with vaporized/gaseous decontamination as the last step. Equipment within the zone to be decontaminated should be emptied and left open/exposed the vapor/gas as appropriate for the surfaces that should be included as part of the decon scope. If the purpose of the decontamination is to remove unwanted contamination it may be worth considering sampling or other measures to ensure the source of the contamination is fully abated along with the decontamination to prevent recurrence.
TSS can provide decontamination services nationwide; contact your local TSS office to discuss today.