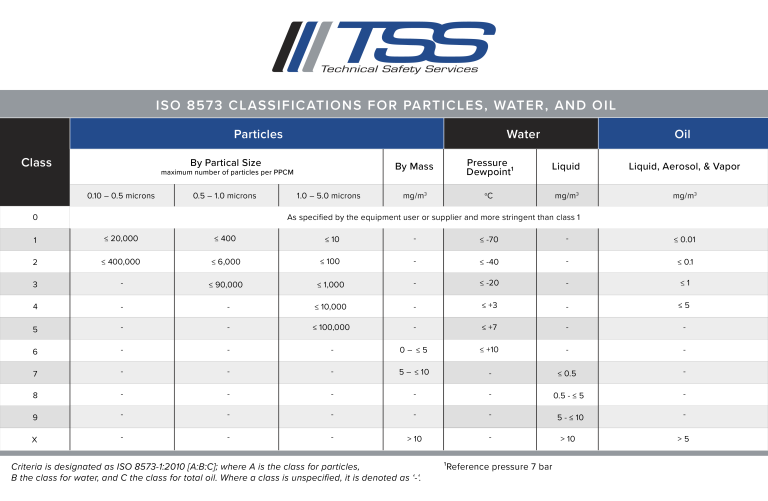 Why test CDA or CGS systems?
Compressed dry air or compressed gas systems are critical utilities in your clean environments. CDA or CGS systems may be used in process applications directly or indirectly contacting product, they may supply critical equipment, or they may be general utilities. In each case, testing the CDA/CGS system should be considered. Results of testing will provide the assurance needed to confirm air or gas as supplied is of sufficient cleanliness as well as confirm the system is operating within expected limits/does not require maintenance.
What is ISO 8573?
ISO 8573 is a compendium of nine (9) ISO published documents outlining cleanliness classes and testing procedures for compressed air lines. TSS' CDA testing services are fully compliant with ISO 8573.
Cleanliness classes in ISO 8573 are outlined for nonviable particle counting, total oil, and dewpoint. Viable bioburden and purity sampling procedures are outlined, but no ISO 8573 criteria or classifications are provided.
How should I determine my CDA/CGS testing plan?
Determination of the appropriate interval of testing, testing parameters, testing locations, and criteria per system, should be conducted through risk assessment and review of regulatory or contractual expectations. Generally, TSS recommends testing all critical drops on the system annually. TSS is glad to review your system specifications and discuss recommended testing with you at anytime!
Technical Safety Services can support the testing of your CDA or CGS systems nationwide. Call us today at 800.877.7742 or contact your local TSS office to discuss how TSS can support your testing needs.