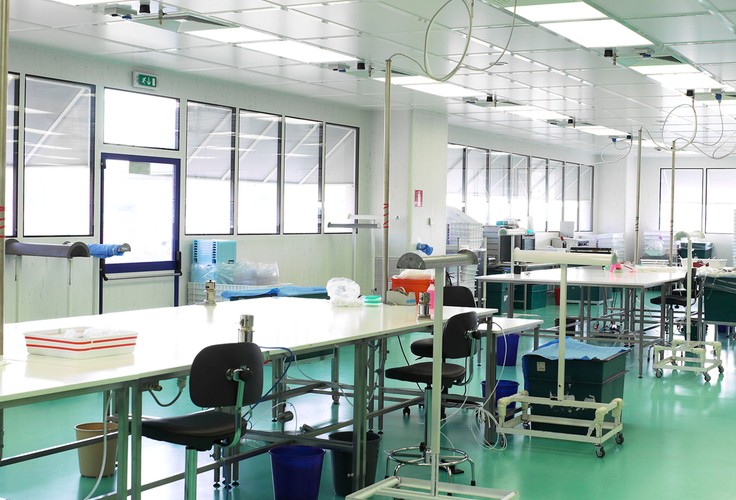 Cleanrooms are used for the manufacture, testing and design of products in health- and safety-critical fields such as medical device manufacturing, pharmaceuticals, food and beverage, aerospace, and more. The purpose of a cleanroom is to reduce and control the number of airborne particles in the working environment, to ensure that the product or material being handled in the cleanroom maintains the required level of cleanliness and integrity.
Cleanroom standards and classifications are the primary way that cleanrooms are designed and implemented for specific applications. For example, a medical device will have a predetermined limitation to the number of airborne particles that can be present for the device to operate safely, while protecting the health of the patient and others. This number of particles corresponds to a cleanroom classification (of which there are several types).
We will explore and define these cleanroom classifications in the next section.
Cleanroom Classification Standards — Explained and Defined 
Cleanroom classification ratings provide a simple, universal shorthand for defining how a cleanroom will be built and operated. These classifications define a maximum allowable number of particles for a particular size to be present, so that the cleanroom can be constructed to meet this standard.
Cleanrooms control the number of particles in the air through several methods: air circulation and flow control, pressurization, HEPA filters, and stringent personnel practices and standards. Particulate matter can consist of numerous materials, all of which can contaminate and thus endanger the safety of a product. These particles may include dust, dirt, dead skin, micro-organisms and mold.
Standards for cleanrooms are defined by ISO 14644-1, which provides for nine distinct cleanroom classes, determined by the maximum number of particles of a certain size that may be present to meet that class standard. You may also still see cleanrooms defined by FED-STD-209E, even though this old standard was cancelled by the U.S. General Services Administration (GSA) on November 29,2001. https://www.iest.org/Standards-RPs/ISO-Standards/FED-STD-209E
The information contained in the table below comes from ISO 14644-1:2015 Table 1. This table sets the limits (maximum allowable concentration) for specific sized particles in each cubic meter of air. Classification of a cleanroom is typically performed based on the smallest sized particle listed for each corresponding ISO Class, but the table does allow for classification to any of the listed particle sizes for the specific ISO Class.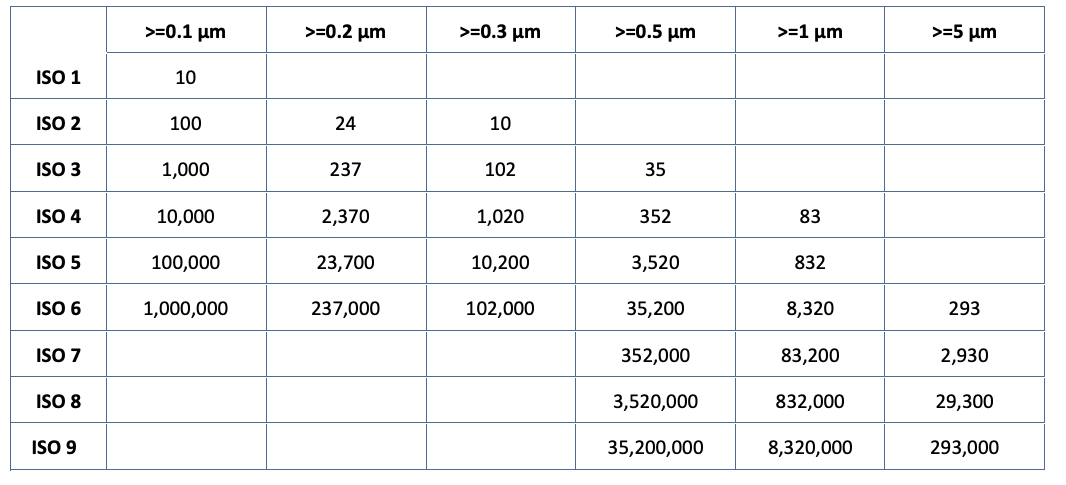 At Technical Safety Services, we feature extensive expertise in cleanroom testing and cleanroom certification services, including nonviable particle counting methods required under ISO 14644. We can assist with cleanroom commissioning, shutdown, testing and more, and are ready to help you today. To learn more, contact us.