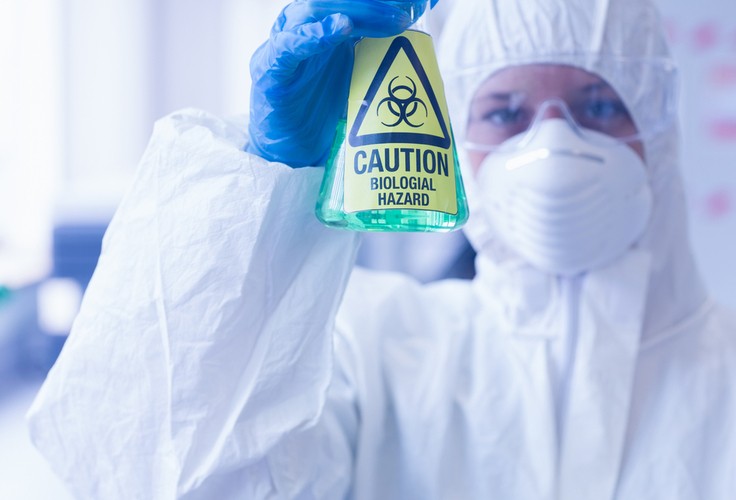 Laboratory work with chemicals is a necessary component of a wide range of fields and industries: the medical field, pharmaceuticals, cosmetics, industrial applications, consumer products and many more. The advances in these fields, however, come at a high risk to the workers handling hazardous substances such as these chemicals, with numerous dangers involved.
What types of hazardous chemical handling typically occur in a lab? Common chemicals can include:
Acids
Flammable liquids such as alcohols
Nitrates
Nitrites
Metal hydroxides
Sulfates
Formaldehyde
Sulfides
Cyanides
Pyrophorics
And more
Each of these chemicals and groups pose different types of risks, making safe handling of hazardous chemicals a critical concern in the lab. Just some of these potential risks include:
Long- and short-term health effects for workers
Skin and internal irritation
Carcinogenicity
Flammability
Explosion risk
Corrosion
How to Handle Hazardous Chemicals

With these tips in mind, you will be better prepared to understand the safety measures that must be followed for hazardous material handling, and can be able to communicate these measures to colleagues and stakeholders.
Train staff about how to handle materials: Make all safety data sheets (SDS) easily accessible to employees. Also, ensure that all employees are trained on the first aid procedures for each material, and that ample personal protective equipment (PPE) is provided and maintained for employees.
Know what you're working with — in real time: Keeping a detailed, real-time updated inventory of the chemicals on-site is an effective baseline safety measure. By understanding which chemicals are on-site — and thus, which chemicals will eventually be in the lab — you are better-equipped to check that correct handling procedures and safety measures are being followed for the materials in use.
Develop a safety SOP: A standard safety operating procedure (SOP) is an excellent safeguard against preventable safety incidents. This SOP can be created in a general way, as long as it provides more detailed individual procedures for specific chemicals.
For instance, in the case of inventorying chemicals (as mentioned above), the SOP should provide for immediate, real-time inventory of chemical deliveries and access, and should stipulate the availability of more specific instructions for each type of chemical. Other elements of the SOP might include daily startup and shutdown procedures, staff access permissions, PPE requirements, hardware operation procedures, and more.
Understand the importance of labeling and documentation: Attention to detail is a critical component of safety, and the twin areas of documentation and labeling provide a perfect example of this fact. Correct labeling of chemicals is a self-evident safety necessity, and personnel should be sure that chemicals are properly labeled as soon as they enter the facility. Documentation should also be updated in real time, and thorough, up-to-date safety procedures should be readily available at any time for any chemical in use.
Guarantee that the proper hardware is in place: Ventilation and air flow are critical in chemical handling safety. Proper hardware and equipment go hand in hand with facility design to assure that adequate ventilation takes place. A fume hood (a piece of equipment that pulls contaminated air out of the facility and safely disperses it into ambient air) is the most effective way to check that chemical concentrations do not build to dangerous levels, and should be in use whenever chemicals are handled.
Make sure all staff training is current and thorough: All staff must be trained in proper handling and hardware procedures as part of onboarding — regardless of their previous experience level — and should be retrained regularly, at least annually. Training materials must also be reviewed at least as regularly so that the most up-to-date safety procedures are being followed.
Go the extra mile on safety measures such as alarms: In addition to the proper hardware and equipment to ventilate the lab, safety measures such as monitors and alarms can ensure that staff are alerted of potential hazards before they pose grave danger. In scenarios such as chemical handling, every possible step should be taken — given the risks of improper handling, spill or hardware malfunction. Long-term health effects and even death can occur from exposure to hazardous materials.
Use a multitiered inspection approach: Hardware should be fully inspected, calibrated, tested and certified regularly. Typically, a facility will execute these top-to-bottom steps at least once a year, often enlisting an expert third party to certify that these procedures are carried out correctly. In addition, however, less thorough inspections should occur more frequently. You might carry out a quarterly check, and include daily visual inspections as part of startup and shutdown procedures. All of these steps add up to a multilayered safety approach that should prove more effective.
At Technical Safety Services, we offer deep expertise and experience in testing and certification services for hardware such as fume hoods, so that your equipment is operating up to spec and personnel are safe.
We primarily use face velocity and smoke visualization testing, and offer tracer gas testing and more depending on your certification needs. TSS also offers turn-key solutions for laboratory relocation and complete site closures — including chemical inventory transfers and disposal. Further, we can handle hazardous materials permit closures, providing a detailed closure plan.
For more information about our full range of laboratory services — including and beyond fume hoods hazardous chemical equipment — contact us today.